Medica Düsseldorf Althea stand
We present Althea stand at Medica Düsseldorf, the Italian company leader in the management of biomedical technologies, which operates in the sector of integrated clinical engineering services.
The company was present at the Medica trade fair, the International Fair of Medicine and Hospital Technology, which takes place in Düsseldorf, probably the most important in the medical sector.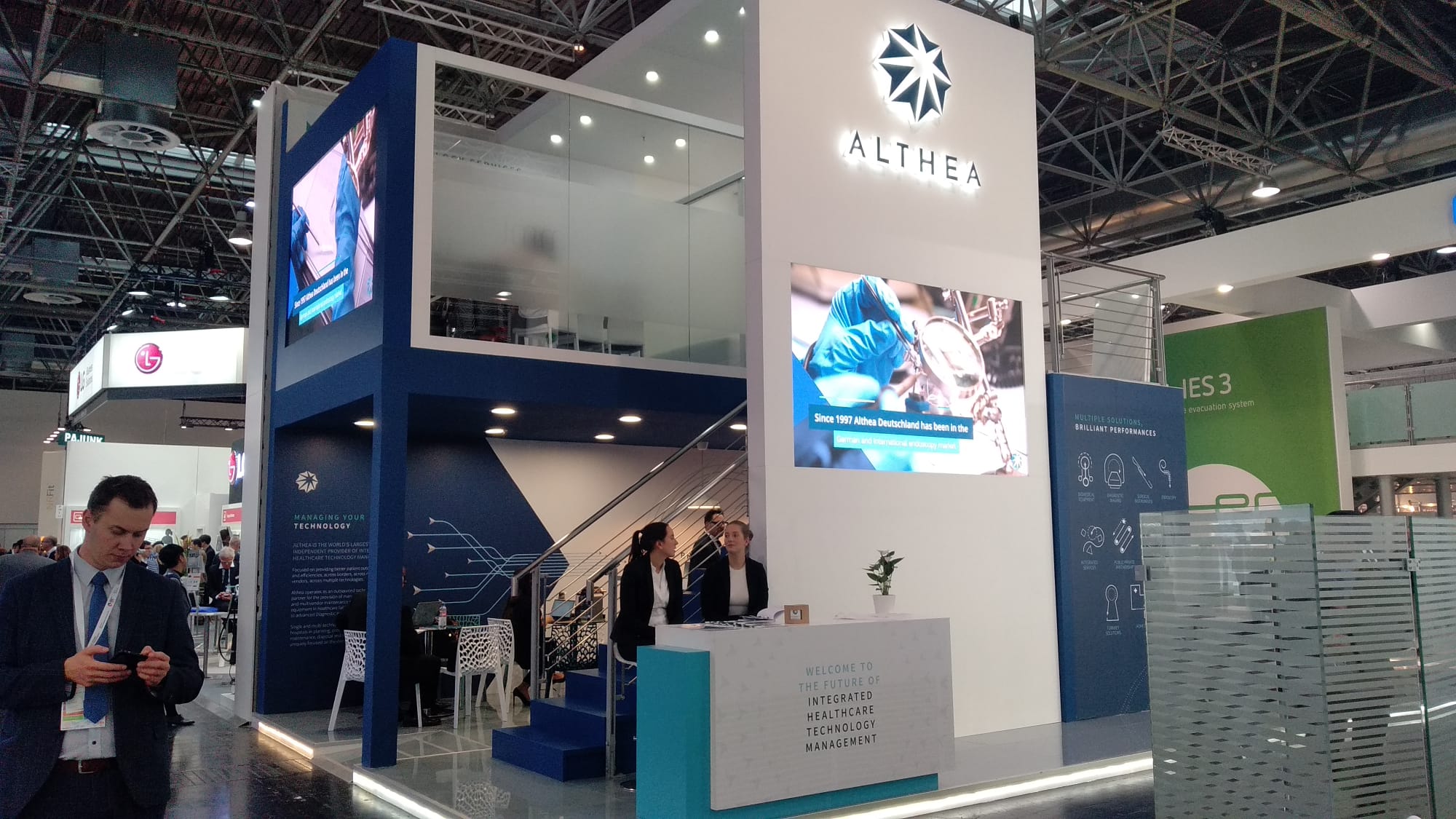 To capture the attention of more than 120,000 visitors, in an exhibition space of about 112,000 square meters, our client choose a two floors exhibition stand. This has allowed greater visibility of the brand, a high usability of the exhibition area and a high expression and communicability of the Althea's importance in the medical sector.
Tall and majestic with the backlit logo in clear view positioned on the central wall of the structure, it made possible to easily locate our customer's stand inside the pavilion, among hundreds of other exhibitors.
this kind of design, ensures differentiation from other competitors, facilitates meeting potential new customers and communicates in an elegant and effective way, all the greatness represented by the italian leading company.
2 floor stand design
They allow coverage of a larger space than the assigned area.
Design develops vertically giving greater visibility to customer,
Stands with mezzanine are the right solution for those who want to divide their areas.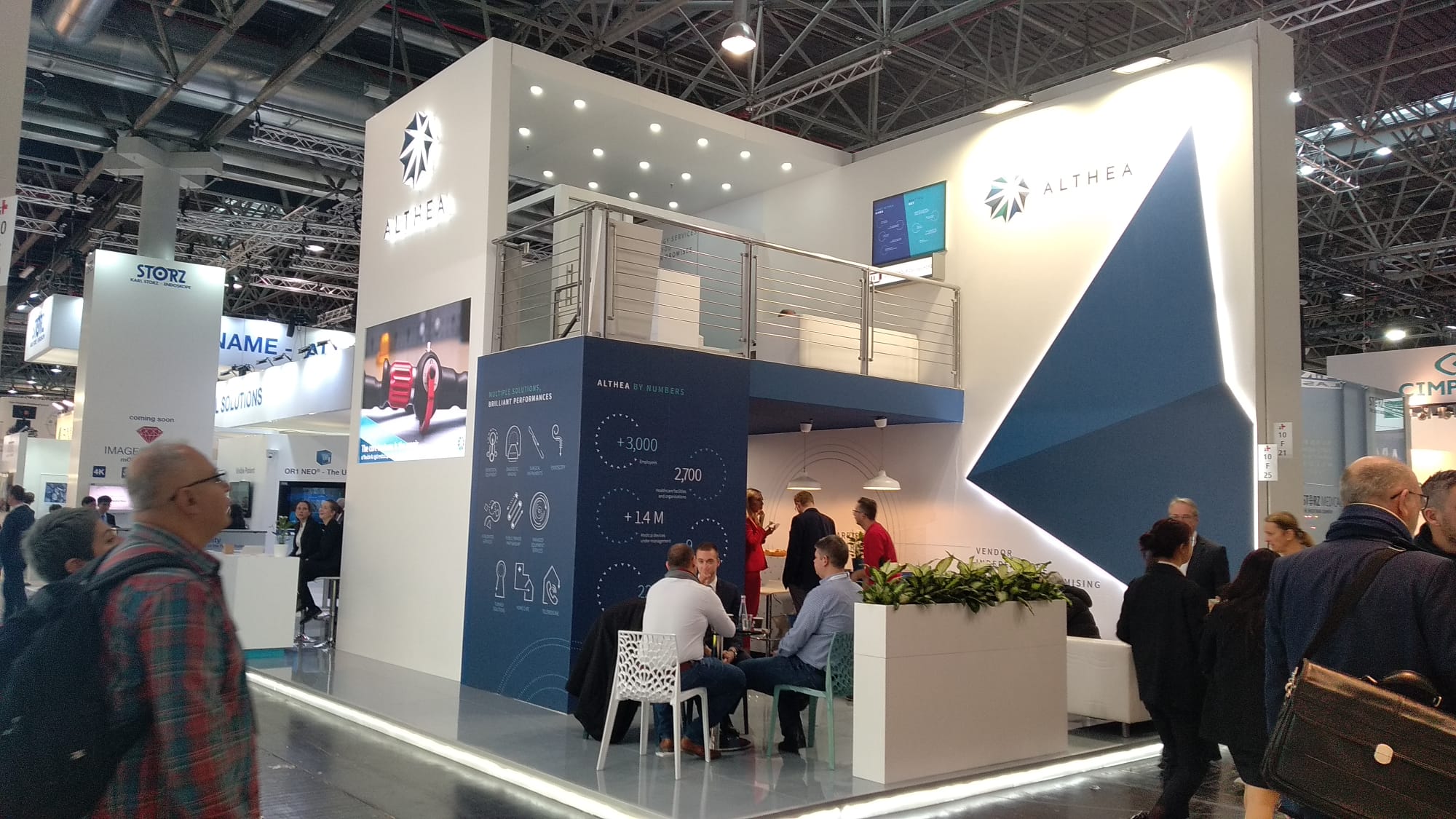 The exhibition space allowed visitors to be welcomed in downstairs with a reception desk and a dining area, in addition was present a bar counter, tables, as well as a comfort area with sofas and a device recharge station.
The upper floor was reserved for the meeting area, an exclusive space with professional table and seating. Elegant, sober and closed with glass walls and sliding door. At the top of the stairs there was a customer waiting area, with comfortable furnishings and an additional device recharge station.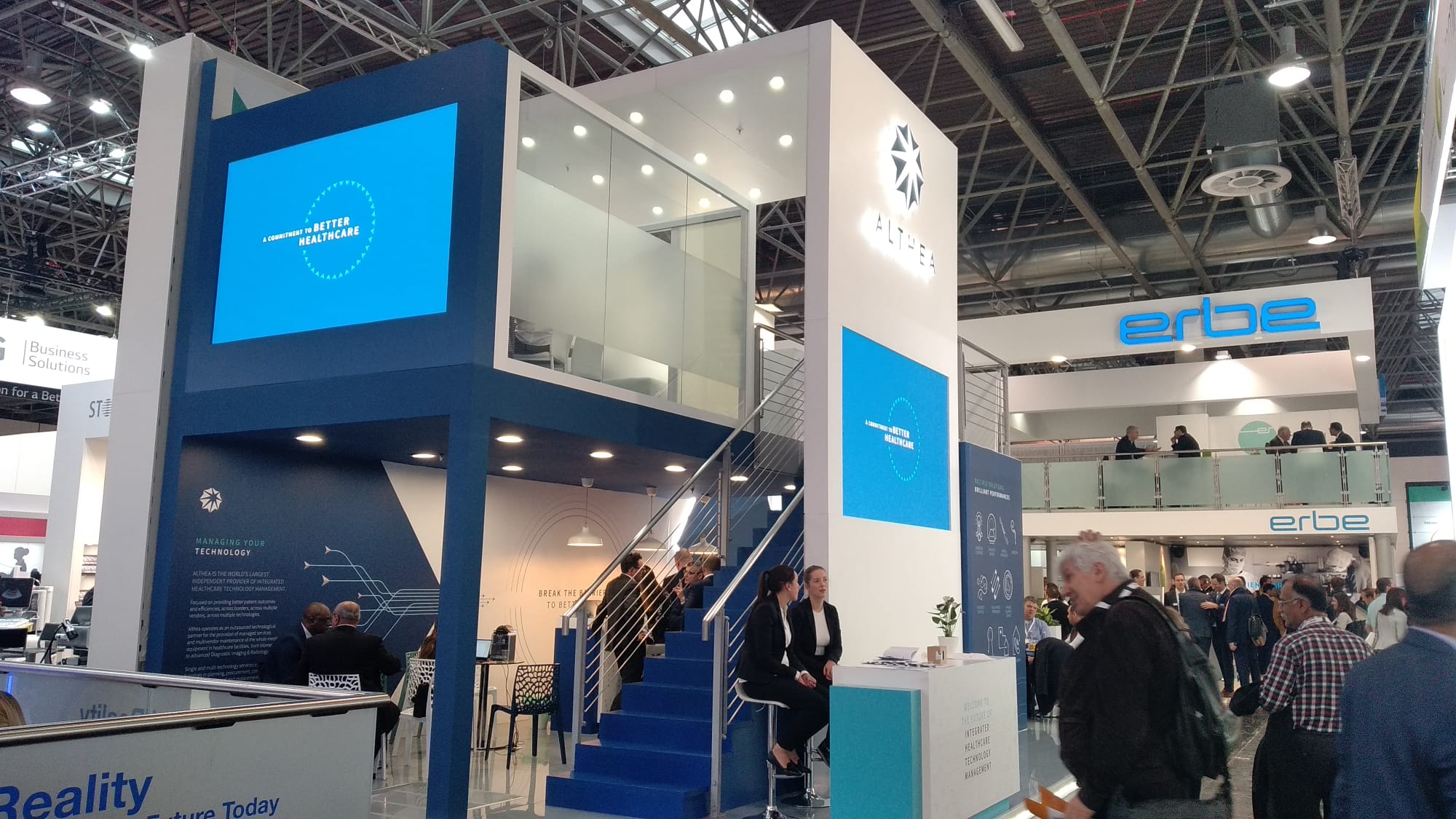 External design with two large led walls, positioned at the front and side of the stand, which overlooked the corridors of greater passage, ensured a fast and interactive communicability of what our customer is able to offer his customers. We would like to pay particular attention to ledwall we install, we always aim for the best technology, therefore a 2.6 mm pitch modular led display, this ultra-defined pitch guarantees high pixel resolution.
Exhibition stands for medical congresses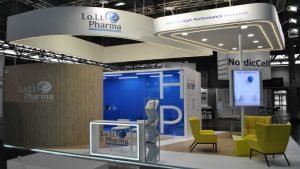 Many customers operating in the medical sector turn to us to create exhibition stands for medical conferences, meetings, trade fairs. Among the many we can mention: Johnson & Johnson, Proclinic, Lumenis or Serenity Care.